Trend in Rice consumption in Thailand1/
Somporn Isvilanonda2/
Kasetsart University, Bangkok
<![if !supportLists]>I. <![endif]> Introduction
1/ A paper presents at the symposium on "World Rice at Stake" during March 13-14, 2005 at Heart Inn Nogizata Hotel, Tokyo.
2/ Associate professor, Department of Agricultural Economics, Faculty of Economics, Kasetsart University, Bangkok 10900, Thailand
Table 1 Thailand gross domestic product(GDP) per capita at 1998 price and annual
growth, 1971-01
Source: (1) from Bank of Thailand. (2) Other's calculation
Table 2 Thailand mid-year population and annual growth, 1971-03
Source: (1) from Department of Provincial Administration, Ministry of Interior
<![if !supportLists]>III. <![endif]>Household rice consumption
Food consumption patterns in Thailand have been gradually changed over the past few decades. There has been an increasing trend in per capita consumption of the more nutritive foods such as meats, fruits, and vegetables and a declining trend in per capita rice consumption (Konjing and Veerakitpanich, 1985; SEP, 1992). In the household food budget, the share of rice and cereal has declined from 17% in 1990 to 11% in 2002. Rapid economic growth, urbanization and improvements in marketing networks and education induce a change in consumers' habit as well as their food consumption expenditures.
Table 4 Average production, rice export, and domestic use, 1971-03
The usage of rice and rice by products as a raw materials in

food and non-food industry is relatively small in Thailand. It was approximated that 8.79% of milled rice production was used in these processing industries. Using the International Standard Industrial Classification (ISIC), the rice processing industries

can be classified into rice cracker, rice flour, rice vermicelli, and rice starch. In 2002, there were 1,731 rice processing plants registered at the Department of Industrial Plants, Ministry of Industry. Judging from the registration number, the share of small plants is high or about 86% of the total number. Many large and medium scales are involved in producing rice processing products for export. Despite the average value of export has increased from 2,325.7 million baht during 1991-95 to 3,445.5 million baht during 1996-2001, the export quantity on the other hand has declined from 124.1million ton to 110.4 million ton during the same period (table 6 and 7). In terms of both exported value and quantity growth, the rice cracker and the rice sheet are still very high potential for Thailand to export these products.
At present, the industrial performance for rice processing products in Thailand is continuing adjusting toward a change in market environment and technology. This
<![if !vml]>
<![endif]>
<![if !vml]>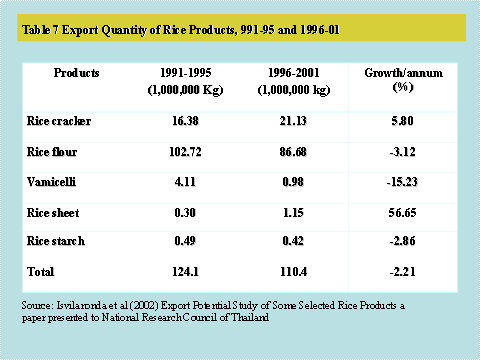 <![endif]>
reflects by the shrunken of export quantity but the risen of the export value. Thailand has still a large room to improve her value added from rice processing products. In recent years, the value share of her rice processing products export is accounted for less than 5% of the total rice export value which mostly in term of milled rice grain.
A successful economic development over the past few decades has influentially made an improvement in per capita income of the Thais and consequently stimulated a change in household rice consumption patterns. In all types of community development, a decline in per capita rice consumption in households was found whereas the income level increase. The per capita consumption even declined further from 1992 to 2002. This has diminished the total household rice consumption in recent years. In Thailand, the usage of rice and rice by products as a raw materials in feed and rice processing industries is relatively small. As a result, almost of the excess rice supply are exported as milled rice grain. The value share of rice processing products export is negligible. Since Thailand mostly exported rice in the form of grains, a continuously declining the world rice price simultaneously affected the domestic price.
It is necessary for Thailand for enhancing the country's rice consumption demand situation through technological development for improving new forms of rice and rice processing products. Forms of promotion strategies are also essential for alleviation a declining trend of household rice consumption patterns.